Santo Domingo Attractions & Highlights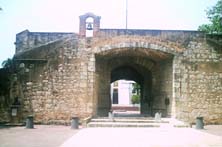 Zona colonial
Santo Domingo's Colonial Zone is protected by UNESCO as a World Heritage Site- and it's not hard to see why. The area is packed with colonial homes, churches and squares that date back to the 16th and 17th centuries. You'll also find a delightful mix of museums, restaurants, cafés, bars, parks, shops and more.
Catedral de Santa María la Menor
Santo Domingo's lovely cathedral is the oldest in the New World. Its first stone was lain in 1514 by Christopher Colombus' son, Diego, and its construction was finished in 1540. Within the pretty façade of golden-tinged coral limestone lays an impressive interior that combines Gothic and Baroque elements.
Other Churches
The cathedral is but one of a slew of colonial-era churches found throughout Santo Domingo's historic center. The Convento de la Orden de los Predicadores, a Franciscan monastery built in 1510, is the New World's oldest monastery and merits a visit. Other interesting churches include: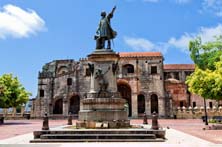 Capilla de Nuestra Señora de los Remedios (16th century)
Iglesia de Nuestra Señora de las Mercedes (early 16th century)
Iglesia de Santa Clara (1552)
Iglesia de Santa Bárbara (1574)
Iglesia de la Regina Angelorum (late 16th century)
Iglesia de San Lázaro (1650)
Capilla de la Tercera Orden Dominica (1729)
Parque Colón
Across from the Cathedral and at the heart of the Zona Colonial you'll find this leafy square, where people of all walks of life meet, stroll, relax and people watch.
Alcazar de Colón
This impressive limestone building, located on the bluffs of the Ozama River, dates back to the early 16th century. It was built for Christopher Columbus' son Diego, who would go on to be governor, and his family. The magnificent palace - once the center of the Spanish court and now the Dominican Republic's most visited museum - boasts 24 rooms and open-air loggias that are decorated with colonial-era furniture, paintings, tapestries and other details.
More Dominican Republic Travel Guides