Visit Santo Domingo During...
Carnaval
The whole country gears up for its Carnaval festivities, held each year in February. The best parties are found in Santo Domingo, where you'll enjoy huge street parties, parades, costumes, music and much more.
Latin Music Festival
This music festival, held each June in Santo Domingo's Olympic Stadium, attracts all the big names of the Latin music scene, particularly the genres of salsa, jazz, merengue and bachata.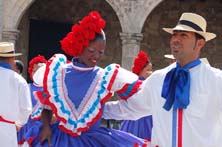 Merengue Festival
Santo Domingo is famous for its merengue scene, so it's only natural that the city has a huge Merengue Festival. The two-week homage to merengue takes place annually during the end of July and beginning of August.
Weather
With its tropical climate, there's really no bad time to visit Santo Domingo. The weather is hot and enjoyable even during the "rainy season", when you can expect a daily downpour; however, the rain usually passes in an hour or so and clears up into sunny skies once more.
More Dominican Republic Travel Guides