The Santo Domingo Experience
Merengue
Considered the world capital of merengue, Santo Domingo is the place to hear, dance and enjoy merengue at its best. The beats of merengue serve as the soundtrack to the Dominican Republic, where it's by far the most popular style of music and can be heard anywhere from glitzy clubs to handcraft shops, restaurants and hotel lobbies. It's also the national dance music, so expect to hear plenty of it and dance up a storm.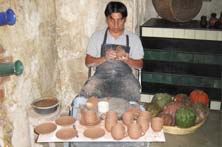 Shop
Santo Domingo is famous for its shops selling jewelry, figurines and other objects made of amber and larimar, two stones native to the Dominican Republic. Don't just buy it on the street, as they're probably fakes. Instead, check out good shops like the Swiss Mine, the Ambar Maldo Gift Shop and the Flor Ambar Gift Shop.
Learn all about the tobacco process
At the Museo del Tabaco or the Boutique del Fumador you can learn all about and watch the entire process of cigar making.
Check out a baseball game
The sport of baseball is huge in Santo Domingo, where fans follow not only their own local and national leagues during the winter (November - February)s, but also follow the American major league from April until October. Many players play in both leagues, as the seasons don't coincide, making games in Santo Domingo top-notch baseball experiences. The Estadio Quisqueya is home to Santo Domingo's two professional teams: Escojido and Licey. Be sure to catch a game if you're around in wintertime- we guarantee it'll be fun!
Have a night on the town
Santo Domingo has a great nocturnal scene, ranging from chic nightclubs to live music locales, atmospheric bars and vibrant merengue clubs. Enjoy it all!
More Dominican Republic Travel Guides