Learn Spanish in Santo Domingo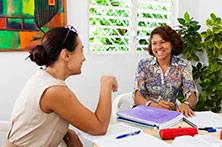 Those who visit the Dominican Republic cannot help but fall for the island's lush countryside, and the beautiful beaches that really make the country stand out. The best news is that the Spanish courses in Santo Domingo are situated just a short way from the coastline, so you will be able to enjoy sand, surf, and sun whenever you want during your stay!
The following Spanish courses are available in Santo Domingo. Click on the Spanish course you're interested in to see more details.
Spanish Courses in Santo Domingo, Dominican Republic
This welcoming little gem of a city is jam packed with culture, and you will love exploring the city streets and getting to know more about the history and traditions of the area. You will be able to take advantage of the many museums, theatres, and cinemas scattered throughout the city – especially with your newfound language skills, which will help you to understand what is going on. These cultural experiences will in turn help you to practice what you have learnt in your lessons, so there is more reason than ever to get out and see the sights of this city.
The school is situated right next to the city's university, so we are in a prime position to enjoy all the amenities brought to the area with the promise of student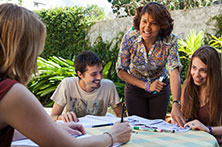 customers. Cafes, bars and restaurants as well as shops are all within easy reach, and with all the activities offered by the school you will not want for anything: some of the local excursions on offer include hiking trips, tennis lessons, the opportunity to try some dancing, and cultural visits to places of interest. Students of any age from sixteen and above are permitted to study at the school, so young learners can get a head start in both studying Spanish and living a more independent way of life.
There are three Spanish language courses available at the Santo Domingo school, which are pitched to suit different types of learner – as we know that not everyone benefits from the same style of tuition. Our most popular course, which we offer at all of our Spanish language schools, is the intensive course at twenty hours of lessons a week. This is perfect for getting in enough teaching to help you reach the next level of language skills, as well as giving you time to enjoy yourself and relax outside of class. If you would prefer to study a bit harder you can try our super intensive courses, which add a further ten lessons per week, but if you would prefer to learn one on one instead of in a group then you can opt for private Spanish courses.