Accommodations in Mendoza
When you study Spanish in Mendoza, you'll be staying in the home of a host family, using your Spanish both day and night as you learn about the customs and ways of your Argentine hosts.
Host Families (single or double room, half board or bed & breakfast)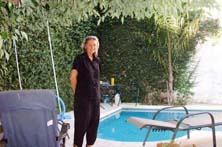 Our Spanish school in Mendoza carefully selects families who are true hosts. They will welcome you into their home, invite you to family gatherings, special events and much more. Not to mention, this option allows you to try typical regional foods, given that you'll be on a half board meal plan (breakfast & dinner). Your family will speak to you in Spanish 100% of the time. It's the perfect recipe to improve your Spanish skills by leaps and bounds!
Living in a student residence provides a different experience, as it gives you the chance meet local and international students. You will be able to prepare your own meals, set your own time schedule and enjoy a fully independent lifestyle. The rooms are individual or double and common spaces are shared.