Visit Mendoza During...
Known as the "land of sun and wine", there's really no bad time of year to visit Mendoza. Rainfall is scarce and the city enjoys 300 days of sun each year!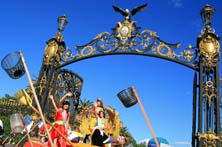 March
If you're a wine-lover, consider coming to Mendoza in the first week of March for the Vendimia Festival, a celebration of the grape harvest featuring bodega-sponsored activities, parades, concerts, festival queen elections, traditional performances and much more. It's an extremely popular time for visiting Mendoza, so plan ahead!
Autumn (February - April)
Beautiful fall foliage and a good time to visit the wineries, as harvest season slowly turns to wine-making season.
Winter (June, July & August)
If you're looking to hit the slopes of the Andes, Mendoza is just 160 kilometers from fantastic ski slopes. In the city, winters are sunny and fairly mild
Learn Spanish in Mendoza
Spanish School in Mendoza
Spanish Courses in Mendoza
Mendoza Accommodations
More Argentina Travel Guides