The Monteverde Experience
Canopy tours
Ziplining from tree top to tree top and walking over bridges suspended high above the forest floor is guaranteed to be an unforgettable experience. Monteverde has several companies offering these adventurous canopy tours in the surrounding cloud forests.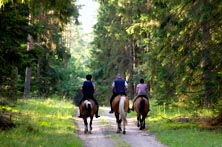 Horseback riding
Horses have long been a principal mode of transportation in Costa Rica due to the country's terrain. Even today, with the modernization of the country that has come with the influx of ecotourism, horses can be the most convenient way to travel. In Monteverde you can sign up for all sorts of horseback riding excursions through the tropical forests; available at all levels and for anywhere from a couple of hours to nearly a week!
Hiking & wildlife spotting
The cloud forests are home to a spectacular biodiversity that begs to be discovered. There are 400 species of birds (including the elusive quetzal and 35 different types of hummingbirds), no to mention all sorts of monkeys, sloths, cats, reptiles, butterflies and much more. There are even guided night time hiking tours that provide an unrivalled opportunity to see all sorts of nocturnal animals and critters.
More Costa Rica Travel Guides