The Cusco Experience
Take a day trip to Machu Picchu
Cusco is known as the gateway to Machu Picchu, and with good reason! The ancient Inca site, Peru's most visited attraction, is just 80 kilometers from Cusco. Perched on a mountain ridge above the Urubamba Valley, Machu Picchu was built in 1462 at the height of the Inca Empire.
Fortunately for us, the site was never discovered by the Spanish conquistadors and therefore did not succumb to the destruction havocked upon other former Inca cities.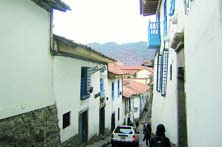 Wander around the Barrio de San Blas
The most picturesque neighborhood in Cusco is San Blas. Perched on a hillside, it's characterized by artists' studios, artisan shops, bars and restaurants. Adding to its laid-back Bohemian vibe, it's almost entirely pedestrianized and offers more than a few lovely look-out points over the city.
People-watch in Plaza de las Armas
The Plaza de Armas is not only surrounded by a handful of Cusco's most beautiful buildings and churches, but it also has numerous restaurants and cafés perfect for sitting back, soaking up the atmosphere and watching the square's non-stop activity.
Shop for Crafts
The indigenous heritage of Cusco and its surroundings is very much alive, which means a wide variety of hand-woven textiles, artisan crafts and other local goods. Stay away from the tourist trappings; instead, hit the marketplaces!