Cusco Attractions & Highlights
Plaza de ArmasMain Square
Cusco's main square and principal hub of activity. The square is surrounded by Cusco's most emblematic buildings and churches as well as all sorts of shops, restaurants and bars.
Archaeological Ruins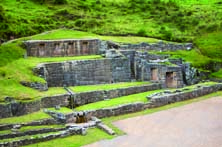 Cusco has four nearby archaeological sites - fortresses, temples, etc. - that are in the outskirts of town, all along the same steep walking route:
Sacsayhuaman
Quenko
Pukapukara
Tambomahay
Monasterio de Santo DomingoMonastery of Santo Domingo
This 17th century monastery was built atop the foundations of the Inca temple Qoricancha (Temple of the Sun), which once housed thousands of the empire's most important priests and their attendants and served as the principal Inca astronomical observatory. Today, a large portion of the church's cloister has been removed, revealing four original temple chambers boasting perfect symmetry and traditional Inca trapezoidal architecture.
Museo de arte precolombinoMuseum of Pre-Colombian Art
This archaeological museum has a large collection of pre-Colombian art and artifacts on display. The approximately 450 pieces date back to between 1250 BC and 1532 AD and are housed in the Inca ceremonial court - turned - convent - turned - colonial mansion of Alonso Díaz, a Spanish conquistador.
Museo InkaInca Museum
Cusco's Inca Museum, housed in the 17th century Admirals Palace, aims to trace the history of Peru's pre-Inca and Inca civilizations as well as the effects of the Spanish conquest and subsequent colonial era on indigenous culture.
Iglesia de la Compañía de JesúsChurch of the Jesuits
Located on the Plaza de Armas, this church is a magnificent example of colonial-era architecture. It was built in the 16th and 17th centuries upon what was then the Inca palace of Inca Huaya. Within, the church features a sumptuous gilded altar and numerous pieces of important artwork.
CatedralCathedral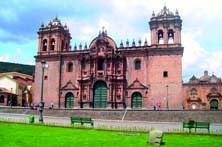 Cusco's 17th century Renaissance-style cathedral, like the Iglesia de la Compañía de Jesús, is located on the Plaza de Armas and was constructed upon the foundations of a former Inca palace, the palace of Inca Viracocha. An overall beautiful example of colonial architecture, both inside and out, with impressive woodwork, a silver altar and a good collection of artowrk.
Templo de la MercedChurch of Mercy
Built in 1536 and largely rebuilt after an earthquake in the 17th century, this lovely church boasts a beautiful façade and cloisters, in addition to the remains of Spanish conquistadors Diego Almagro and Gonzalo Pizarro. Visit the church's small museum to view a collection of religious art.