Visit Cusco During...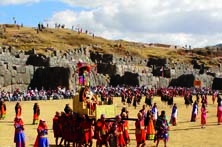 Inti Raymi (Festival of the Sun / Winter Solstice)
Cusco's most important festival of the year, Inti Raymi, dates back to the Inca Empire and is a religious ceremony in honor of the Inca god Inti. Celebrated for several days each year around June 24th, it's a vibrant display of Peruvian indigenous culture with Inca folk dancing, traditional dress and huge parades.
Santuranticuy Festival
A massive crafts fair - possibly the largest in the country - held in December and featuring hundreds of artists and their hand-crafted works of art.
April - May & September - October
These months are perfect for visiting Cusco, as you'll just miss the rainy season (December - March) and the hectic tourist season (June - August).