All About Peru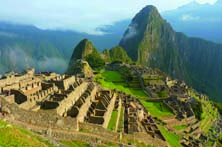 Former hub of the ancient Inca civilization, Peru is a stunning country characterized by intriguing ethnic and geographical diversity. It's the perfect country for a cultural and linguistic immersion program and the alluring city of Cusco - historic capital of the Inca Empire, picturesque colonial city and gateway to Macchu Picchu - is one of Peru's most adored cities.
If you're considering taking a Spanish course in Cusco, we fully encourage you to do so! However, we also understand that before making the final decision you're bound to want to learn a bit more about the city in which you'll be studying and living. For that very reason, we have created a condensed yet extremely informative Cusco, Peru guide containing all the tourist-oriented essentials: what to do, what to see, how to get there, when to go, etc.
Just click on the link below to get started, and we hope to see you soon in the heart of Inca country!
More information...
Spanish Schools
Accommodations
Student Services