Cusco Guide Introduction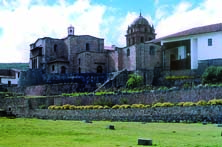 Founded in 1100 A.D., Cusco - called Qosqo in the indigenous Quechua language - was once the flourishing capital of the Inca Empire. Natives and visitors alike consider it the most impressive of all Peruvian cities for its history and remarkable mix of Incan and Spanish colonial architecture, along with the beauty of its terrain and the warmth of its people.
Cusco is a perfect base city for getting to know the many highlights of Peru: it's a short trip from the ruins of Machu Picchu and the Inca Trail. The city lies at a high elevation, so it can be cold at night and cool during the day year-round. However, there's no need to worry about the chilly temperatures. You can stay warm with colorful wool sweaters and textiles sold at indigenous markets around town. All in all, with its friendly faces, wide cultural offering and rich history, Cusco is an unparalleled destination for acquiring an encompassing vision of Peruvian life.