Spanish Courses in Cusco, Peru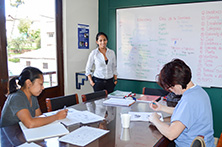 Peru is an infinitely fascinating country. Everywhere you look, the Inca ruins meet colonial architecture, providing an amazing juxtaposition that will have you snapping away with your camera for images to put in the holiday album. Should you choose to learn Spanish in Cusco you will be able to experience all this and more, as the city is considered to be the gateway to Machu Picchu and therefore a whole world of historical learning.
The following Spanish courses are available in Cusco. Click on the Spanish course you're interested in to see more details.
Spanish Courses in Cusco, Peru
If you have always wanted to explore the magnificent site of Machu Picchu, this is your chance to do so at your leisure. Studying so close to such an internationally renowned destination certainly has its benefits, as you will have access to certain amenities and creature comforts set up for tourists in the area that other parts of Peru do not offer. It is also the best place to get to know the Peruvian culture, as Cusco is the epicentre of it all – and you can go out and talk to the locals whenever you wish, especially armed with your new Spanish lessons.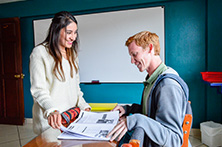 The language school in Cusco is situated very close by the central city square, the Plaza de Armas, so you will be able to easily access everything you might need in the city – it is also actually only a few steps away from the famous Temple of the Sun, so you will be able to enjoy this spectacular sight every time you emerge from the classrooms. The area is also full of restaurants, bars, cafes, shops, banks, and all of the other resources that might come in handy to you during your stay. As if you will need to stay in, the school provides a video room, entertainment room, and an indoor patio for socialising, all inside a beautiful nineteenth century colonial home. You are sure to love it!
The courses on offer are varied, starting with the standard Spanish intensive course. This is recommended for most learners as it has been perfected to give the best possible learning experience combined with plenty of time for exploration, with a high rate of student satisfaction. You can also take this course up a level by choosing the super intensive course, which features more lessons per week for a quicker learning speed.
If you want to do some good work during your stay, think about doing the volunteer program. You will get two weeks of Spanish tuition to prepare you first of all, during which time you can also explore the sights of the city and get to know the local community. Then you can spend two weeks doing voluntary work, which will be extremely rewarding and a chance to practice your language skills.