Learn Spanish Cusco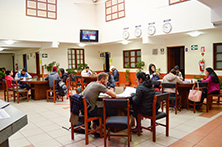 Our Spanish School in Cusco is located in a beautiful colonial building only two blocks away from the famous Plaza de Armas of Cusco.
The school occupies the first and second floor where there are a total of seven big and brightly-lit classrooms. Many of them have the traditional blue balconies unique to Cusco that overlook San Augustin Street and the beautiful cupola of the Santo Domingo Church.
In addition to our larger classrooms, there are also smaller spaces for individual classes. Some of the classrooms are located downstairs along a sunny courtyard where the administrative offices and teachers room are also found.
The rest of the classrooms are located at the second floor. A long and beautiful corridor separates the study area on the right from the living area, the student residence, on the left.
You will also find a beautiful high ceiling for meetings and student activities, as well as common spaces with a cafe that overlooks the courtyard.
Minimum age: 16 years old.
Partner school
Location
2 blocks from the main square, the "Plaza de Armas"
Restaurants, cafes, historical buildings and museums all around
Facilities
Beautiful colonial building
2-story building
7 large classrooms
Courtyard
Common spaces