Antigua Guide Introduction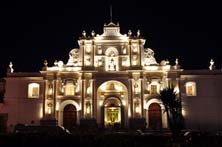 Back when it was still named Santiago de los Caballeros, the intriguing colonial city of Antigua was founded in the 16th century and served for two hundred years as the Spanish colonial capital of all of Central America. A devastating earthquake led to the establishment of present-day Guatemala City as capital of Guatemala and Santiago - renamed "La Antigua", or "The Old Capital" - was all but abandoned.
Nowadays, the history of Antigua - a UNESCO World Heritage Site - is a fine place to learn Spanish in Latin America due its vibrant, alive presence with a number of well-preserved Baroque Spanish buildings, plus colorful, indigenous markets that are spread throughout the city's winding streets.
Antigua is surrounded by volcanoes and mountains and its beauty makes it one of the most popular cities to study Spanish in all of Latin America. Characterized by a charming, relaxed atmosphere, cafés, international restaurants, fascinating architecture and friendly people, it's no wonder Antigua attracts and captivates visitors from all over the world.