Guide to Guatemala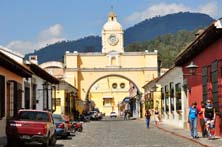 Considered the center of the pre-Columbian Maya civilization, Guatemala is a fascinating country with thousands of years' worth of culture and history under its belt.
If you, like most, are intrigued by the unique wonders of Guatemala, then our school in Antigua will provide you with an unforgettable immersion experience. Naturally you'll want to learn more about your future "home away from home", which is precisely why we have created a handy Antigua, Guatemala guide.
Just click on the page listed below to learn all about Antigua and its attractions, along with all sorts of other interesting and practical information.
More information...
Spanish Schools
Accommodations
Student Services