Spanish School in Antigua, Guatemala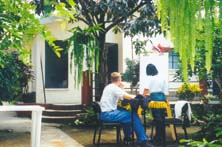 Feel right at home at our partner school in Antigua, which features large common areas for students to study and hang out, a modern computer lounge, Wi-Fi and a snack bar where coffee and tea are always free. Our friendly staff is multilingual and eager to ensure you have the best stay possible!
Minimum age: 16 years old
Partner school
Location
Right in the city center, 2 blocks from the Plaza Mayor, Antigua's main square
a short 30 to 45 minute ride from Guatemala City.
Facilities
A small courtyard
Video and meeting room
Modern computers