Antigua Attractions & Highlights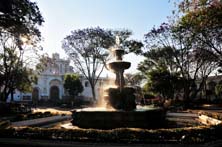 Parque Central
Both the geographical and social heart of Antigua, the Parque Central is the city's leafy central square. Bordered by several historic buildings, it has benches, trees, walkways and numerous fountains, the largest of which is a large, restored 18th century fountain sitting in the very center of the square, and within walking distance of our Spanish school in Antigua.
Iglesia de la Merced
While this breathtaking, elaborately decorated church suffered damages from numerous earthquakes, it has been largely restored and is a spectacular example of Spanish colonial Baroque architecture. Next to the church you can also visit the ruins of what was the adjoining 16th century convent.
Iglesia y Convento de Capuchinas
Unlike many other buildings in Antigua, the devastating earthquake of 1773 left this convent pretty much intact... but the nuns were a bit spooked and abandoned the city. What they left behind was a lovely example of 18th century architecture, with well-preserved gardens, courtyards and even private quarters where you can really get a feel for convent life.
El Arco de Santa Catalina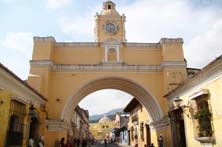 Now one of the most recognizable symbols of Antigua, this quaint street-spanning arch was built for an entirely practical purpose. As the Santa Catalina Convent grew, its growing population required more space. The available space to expand to was located across the street. The problem? The Convent was a religious order and therefore could not go out into the street, if only to reach the rest of the convent. So, this arch was built to connect the two parts of the convent, therefore allowing the nuns to go from one side to the other without being seen.
Monasterio de Santo Domingo
The ruins of the Santo Domingo Monastery, which was built in 1583 and nearly destroyed in 1773, make for a very interesting visit. It once had two bell towers and was filled with treasures; nowadays part of the ruins have been converted into a unique hotel.
Catedral de San José
This 17th century cathedral was once one of the largest in all of Central America but, like many buildings, succumbed to heavy earthquake damage. Parts of the colossal cathedral have been restored and you can truly get a feel for its former - and present - magnificence.
Private colonial homes
For an intimate glimpse into Antigua's past, you can visit some of the fine colonial homes that have been restored, Casa de los leones and Casa Popenoe being two of them.