Visit Antigua During...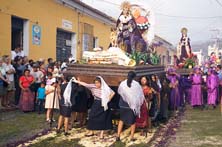 Holy Week
Antigua's Holy Week celebration, taking place annually in March or April, are the most spectacular in all of Guatemala and combine both Catholic and indigenous traditions. Brightly-colored, elaborate carpets of flower petals adorn the streets that the solemn religious processions pass through.
Antigua Festival / Feast Day of Santiago
This local festival, held on and around July 25 to commemorate the feast day of the city's patron saint, Santiago, features a wide range of activities. Enjoy plenty of music, dance and other traditions, both religious and secular.
La quema del diablo
Each year on December 7, the eve of the Feast Day of the Virgin of the Immaculate Conception, locals do a bit of early spring cleaning, piling all of their unwanted knickknacks into heaps throughout the streets. Come early evening, all the piles are set alight in a tradition called the Quema del diablo (Burning of the devil), the tradition based on the belief that by ridding your home of rubbish you are ridding your home of evil.