Spanish Courses in Antigua, Guatemala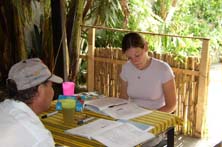 It may be known as the "old city of Guatemala", but during your Spanish courses in Antigua you will get to know the new parts of this city just as well. The language school here is situated right in the city centre, so you will be able to explore for yourself all of the shops, restaurants, cafes, bars, and interesting sites such as the Cathedral right nearby. The school itself is a colonial home, giving you a mixture of the old world and the new with many amenities. And with Antigua being a relatively small city you will be able to easily access everything that you could need as a student.
The following courses are available for those wishing to learn Spanish in Antigua. Click on the Spanish course you're interested in to see more details.
Spanish Courses in Antigua, Guatemala
There are several programs on offer here, and for more information you can visit the links provided to find the course pages with detailed explanations of how they work. Each one is calculated to suit all types of learners with interesting tuition styles and fun lessons that will keep you motivated and entertained, with excursions outside of class to fill your time in visiting worthwhile places.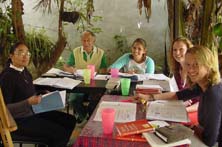 The intensive course offered here follows the same syllabus as that offered at every other existing Enforex school, so you can be sure that it is of the highest quality standard. It is perfectly pitched to make sure that you have a great balance of study and free time, optimising both the amount that you can learn in class and how much relaxation you can find outside of the classroom.
If you want to do more learning within a shorter space of time, you can opt to take the super intensive course (this option is not always available), which adds an extra ten lessons per week. This is great for those who can only spare one or two weeks out of their busy schedules, as it means that you reach a better standard of language quicker than you would with the intensive course. You may find that you do not manage to explore the excursions very much, but there will still be time to relax and enjoy the holiday element of your stay in full.
You can also take private lessons, if learning in a group does not appeal to you. The standard private course gives you twenty lessons per week. This can be a great chance for one to one tuition of an impressive standard.
Alternatively, if you have a little more time, try the volunteer program that will give you a chance to do something good for the community.