Summer Camp Horseback Riding
Optional summer horseback riding program: 12 lessons/ two-week session
Available for beginners only.
Riding classes are normally organized into 45-minute lessons with a total of 6 lessons (4.5 lessons) per week. Depending on their level, students are taught various riding techniques such as mounting, galloping, trotting and other skills.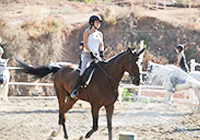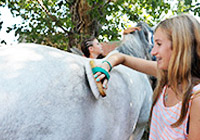 Summer Camps with Horseback Riding
Signing up for Horseback Riding
Due to scheduling conflicts, students who enroll in summer camp horseback riding may not always be able to participate in all of the other camp activities.
Horseback riding program spaces are limited, so we encourage parents to register their child as soon as possible to reserve a spot
You must book and pay for horseback riding at least two weeks before the student's arrival
Campers can only take 1 optional sport per two-week camp period
Once the student's horseback riding program has started, cancellations are not permitted