Santiago de Chile Attractions & Highlights
La MonedaPresidential Palace
Designed in the 18th century by an Italian architect, La Moneda is one of Santiago de Chile's most recognizeable landmarks and a historical site. A military coup in the early 1970's left the building heavily damaged; it has since been restored to its original stately elegance. Tours are available, though they must be booked a couple weeks ahead of time.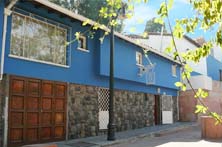 Casa La ChasconaLa Chascona House
Named "La Chascona" for the messy hair of his third wife, this house was where famous poet Pablo Neruda lived. He was an avid collector and the house today is filled with furniture he picked up from around the world, interesting odds and ends, artwork given to him by his famous friends, etc.
Iglesia y Convento de San FranciscoChurch and Convent of San Francisco
This church and convent, whose construction began in the 16th century, dates back to Santiago's colonial epoch and is the oldest architectural monument in the city.
Palacio CousiñoCousiño Palace
This palace was built in the early 1870's by the wealthy Cousiño - Goyenechea family, who had made their fortune from mining and wine making.
Cerro Santa LucíaSanta Lucía Hill
This beautiful hill-top park, filled with romantic footpaths and fountains, also offers incredible panoramic views of the city.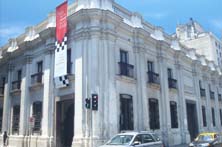 Art Museums
Santiago de Chile has a vast collection of excellent art museums covering everything from pre-Colombian art (Museo Chileno de Arte Precolombino) to colonial artwork (Museo Colonial), fine arts (Museo de Bellas Artes), contemporary art (Museo de Arte Contemporáneo) and much more. There's even one housing gifts from artists who supported the socialist Allende government in 70's: Yoko Ono, Miró, Tapies, Matta, Calder...
Catedral MetropolitanaCity Cathedral
Designed by the same Italian architect who built the La Moneda palace, the neo-Classical cathedral is famous for its elaborately adorned altar.
Basílica del SalvadorSalvador Basilica
This late 19th-century, neo-Gothic church is only open at special times during the year and has suffered damage over the years due to a series of earthquakes. Nevertheless, it's one of the principal landmarks of the city.
More About Santiago de Chile
Learn Spanish in Santiago de Chile