Visit Santiago de Chile During...
Spring & Fall
The weather in Santiago de Chile is best in spring and fall, as you'll miss both the gray, rainy days of winter and the stifling hot days of summer. Plus, the natural scenery is at its very best and makes for a wonderful drive, hike or bike ride through the Cajón del Maipo, a dramatic area of canyons, rivers and stunning nature.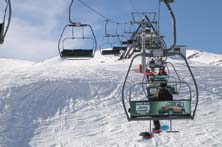 Ski Season
Ski season in the resorts around Saniago generally starts in mid-June and lasts until mid-September, though the ski season can last up to 6 months when weather conditions are favorable.
Festival Internacional Santiago a Mil
This huge arts festival, held each year in January, features national and international performances held in Santiago's cultural centers, theatres, streets and plazas.
More About Santiago de Chile
Learn Spanish in Santiago de Chile