Learn Spanish in Santiago de Chile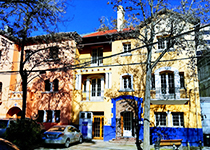 Our Spanish school in Santiago de Chile is the perfect place for you to learn Spanish if you are looking for a great location where, appart from improving your level of the language, you will be really close to the main spots of the city where you can enjoy yourself after your lessons. On top of having the privilege of studying in a building from the beginning of the 20th century and learn from the best qualified teachers, you will reach the bohemian district within minutes. This district is well-known for being full of artists and also because you can find the famous building where the renowned writer Pablo Neruda lived.
Minimum age: 16 years old
Partner school
Location
Next to Bellavista district.
Salvador metro station is just 300 metres away.
Facilities
11 classrooms
3 public PC workstations with WiFi
A cafeteria and snack vending machines
A library, movie room and auditorium
Balcony and terrace