Chile Cultural Activities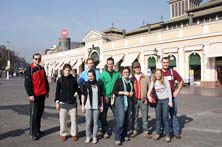 Santiago de Chile is full of interesting sights to explore on a daily basis. Thus, we offer two afternoon activities per week designed for you to discover this capital's treasures. City outings usually last about three hours and are guided by one of our Spanish teachers.
Although excursions are provided as a courtesy, students are expected to pay for their own transportation and entrance fees to museums. Occasionally a day trip is arranged that will replace classes (upon student request only). The costs of these trips are not included in the course and will vary depending upon the proximity and duration of the excursion.
Chile Excursions
Some of the typical afternoon and weekend trips we take are:
Florestal Park and the Museum of Fine Arts
Viña Concha y Toro
Cerro San Cristóbal
La Moneda and the Cousino Palace
Isla Negra
Pomaire