Introduction to Santiago de Chile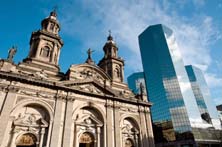 Santiago de Chile is a bustling, moderncapital nestled in a valley amidst the ever-presentbackdrop of the majestic Andesmountain range. One of Latin America'smain financial centers, it's home to about 40% of the country's population with over5 million inhabitants. Santiago is alsocentrally located, making it a convenienthome base for trips to the north, south,and central coastal regions.
Like many Latin American cities, Santiago is defined by coexisting contrasts: colonial and modern architecture, energizing street scenes and quiet parks, elegant shopping centers and earthy markets, an exciting nightlife and romantic restaurants. With ski slopes and beaches at a short distance and all that a world capital has to offer on a daily and nightly basis, Santiago is an exhilarating setting to study Spanish and discover Chilean culture.
More About Santiago de Chile
Learn Spanish in Santiago de Chile