The Santiago de Chile Experience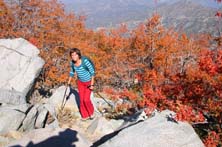 Take advantage of nature!
Virtually surrounded by mountains, a host of outdoor activities awaits you in Santiago! Go trekking, mountain climbing, biking, kayaking, horseback riding, skiing... The possibilities are truly unlimited!
Have a soak
Located 85 kilometers south of Santiago de Chile is the town of Rancagua. In addition to climbing and hiking opportunities, it's also famous for its natural thermal springs.
Hit the slopes
Every snow enthusiasts dreams of swooping down the slopes of the Andes mountains. The Portillo ski station, high in the snowy Andes mountains, is just a couple hours away and provides excellent skiing and snowboarding.
Take a side trip to the beach
Sure, Santiago is surrounded by mountains, but the pristine beaches of Vina del Mar are just a 90-minute drive or bus ride away.
More About Santiago de Chile
Learn Spanish in Santiago de Chile