The Guanajuato Experience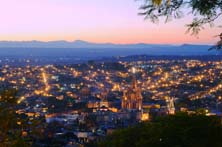 Take a day trip to San Miguel de Allende
This beautiful colonial town, declared both a National Historic Monument and a UNESCO World Heritage Site, makes for a wonderful day trip or overnight visit.
Founded in 1542, it's a compact and charming colonial town focused around the "Jardín", a gardened square, and the stunning Gothic-inspired Church of San Miguel Arcángel dating back to the 1600's. Plus, if you're looking for a bit of relaxation, San Miguel's lush surroundings are famous for their thermal springs.
Get lost!
The winding cobblestone streets of Guanajuato, which seem to lack any sort of order, are ideal for a delightful urban adventure of discovery. As you amble through the centuries-old streets admiring the quaint colonial buildings in pastel hues you'll stumble upon intimate squares, pretty churches, colorful gardens, tranquil fountains, unique shops and cafés and much more. Don't leave your camera behind!
Go museum hopping
Long a hub of culture, Guanajuato has a handful of good museums that cover topics ranging from artwork to history, mummies and literary characters. Here's a quick list: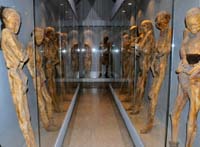 Museo de las Momias - Mummy Museum
Museo y Casa de Diego Rivera - Museum and House of Diego Rivera
Museo Iconográfico del Quijote - Don Quijote Iconographic Museum
Museo del Pueblo de Guanajuato - Guanajuato Municipal Museum
Museo de la Alhóndiga de Granaditas - Alhóndia de Granaditas Museum
Visit the Cristo Rey monument
Set atop the Cerro del Cubilete hill is one of Mexico's most important religious monuments: the Cristo Rey, or Christ the King. This massive bronze statue soars 40 meters and is said to be at the geographical center of Mexico.
Catch a show
If you can, get tickets for a show or performance at the Teatro Juárez. This spectacular venue is a feast for the eyes, both inside and outside, and an unforgettable place to soak up a bit of culture.
More Mexico Travel Guides