Guanajuato Attractions & Highlights
Jardín de la Unión
This gardened, triangle-shaped central plaza is the social center of town, where locals and visitors alike go to stroll, people-watch, relax, read the newspaper, grab a cool drink... you name it! Surrounded by cafés, pastel-colored façades and impressive buildings like the Juárez Theatre and the Church of San Diego, it's no wonder this picturesque plaza is such a focal point of the city.
Juárez Theatre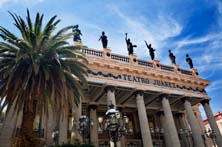 This sumptuously decorated theatre, sitting on the southeastern corner of the Jardín de la Unión, is Guanajuato's most prestigious cultural venue and features a jam-packed schedule of theatre, dance and music performances. It was inaugurated in 1903 and people now are just as awe-struck as people then by the theatre's over-the-top magnificence.
Basilica of Our Lady of Guanajuato
This Baroque church, situated on the tranquil Plaza de Paz, boasts a large dome, a pair of towers, a pastel red and yellow façade and an elaborately decorated entrance. Its most treasured item is the jewel-encrusted wooden statue of the Virgin, which was said to be hidden for 800 years from the Moors during the Christians versus Moors battle for control of Spain. It was given to the city of Guanajuato as a gift from Spanish royalty as a sort of thank you note for the silver mining wealth.
Guanajuato Mummy Museum
While a bit on the macabre side, this fascinating museum is one of the most-visited Guanajuato attractions. On display are over 100 mummies, complete with facial expressions, that were accidentally discovered years ago when bodies were taken from the Panteón, the overcrowded public cemetery. Instead of finding skeletons as they expected, they found dozens of mummies, a phenomenon resulting from the dry climate and mineral-rich soil.
La Compañía Church
This breathtaking church, built in 1747 by the Jesuits to accompany the seminary they founded a little more than a decade earlier, boasts a façade dripping in Churrigueresque (an intensely decorative string of Baroque) adornment which contrasts with its stark Neoclassical interior.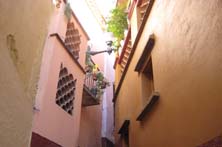 Callejón del beso
This tiny street-turned-attraction is so narrow that people in buildings across from each other can lean out for a smooch, hence the name Callejón del beso, or "Alley of the Kiss". Local lore even tells of a star-crossed couple who met for brief moments on opposing balconies.
La Valenciana
A few kilometers outside of the city is the La Valenciana mine, which played a huge role in Guanajuato's silver-mining affluence. Today, the mine and the surrounding area are a major stop on any visitor's agenda. The highlight is without a doubt the massive Church of San Cayetano, a jaw-dropping display of Mexican Baroque with an incredibly opulent interior of gilded carvings and elaborate altarpieces.
Ex-Hacienda San Gabriel de Barrera
At one time there were 150 colonial estates belonging to affluent mine owners back in Guanajuato's silver mining glory days. This estate - or hacienda - was one of the most important of them all and is easily the best preserved. Visitors can explore the estate's main house, furnished with period pieces, its private chapel, featuring an elaborate 15th century altarpiece, and what was the work area, since converted into 17 beautiful gardens. Definitely worth a visit!
Church of San Diego
Built in 1633, the church, constructed of the local pink cantera-stone, is a lovely example of Mexican Baroque architecture. Sure, it suffered damage from an 18th century flood and had to be repaired and restored, but the church you see today is almost exactly as it was back in the day.
More Mexico Travel Guides