Guanajuato Guide Introduction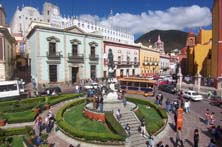 Guanajuato, located in central Mexico, is a picturesque, tranquil university city which serves as the capital of the Guanajuato State. The city is protected by UNESCO as a World Heritage Site and is less than 30 minutes from the international airport, allowing the student easy travel throughout Mexico and the rest of the world.
Set at an altitude of more than 6,000 feet, the landscape includes a narrow gorge and magnificent vistas from steep hillsides. Guanajuato is a 5-hour car ride from Mexico City.
Come to Guanajuato and discover a beautiful, laid-back Mexican city brimming with quaint architecture, a familiar atmosphere, friendly people and unique cultural venues. It is a very safe place to live and characterized by winding pedestrian streets, plazas bordered by pastel-colored houses with iron balconies and abundant flowers all around.
More Mexico Travel Guides