Sopa rellena (Balearic Islands)
Balearic Island cuisine is a bit unknown, even among Spaniards. However, it hides some of our most original récipes, and one of them is "sopa rellena" (literally: stuffed soup), a very typical Christmas dish. So if you are Spanish or from any other country, you will surely be surprise your guests with this dish. But be warned, this dish takes some time to make.
Before starting, how do you "fill" a soup? Well, we will quickly comment that the fun part is filling the pasta that we will cook in the broth. Sounds nice? Let's continue with the recipe.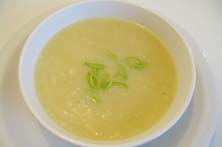 To make the broth you will need the bones and neck (cut in pieces) of a turkey, a carrot, a leek, a celery stalk and a ripe tomato. The stock can take quite a while to make… (cooking, removing foam… waiting hours and hours…) so if you are in hurry we recommend that you buy one of those natural broth stocks that they sell at the store. This month special Christmas broths can be easily found, so for very little money you can save a lot of time!
Now for the "different" part of this recipe: the filling. You will need a kilo of ground beef, chunks of cured ham, pine nuts, a cup of dry sherry, 2 eggs, salt, pepper, and large snail shaped pasta often known as "galets" or "lumasconi" pasta. The next step is as simple as beating the eggs and then mixing the rest of the ingredients together until well-blended. Next, fill each pasta shell with the mixture. If you have left over filling, no worries, you can make some breaded meat balls later.
Now all you need to do is bring the store-bought or homemade broth to a boil. Add the meatballs and a few minutes later the stuffed pasta shells. Boil for about 15 minutes and voila! We were going to say that it is now "ready to serve" but remember that you should let soup stand a bit before serving so that you do not burn your tongue.
Isn't that a great idea for Christmas day or eve?