Kokotxas in green sauce
Spanish cooking enjoys worldwide prestige; and Basque cooking enjoys a prestige among Spanish gastronomy. So you can imagine all the delicious things that could be in their dishes. One of them is particularly popular: the "kokotxas", the lower part of a hake or cod's chin, in green sauce.
The kokotxas are ideal for special meals or gastronomic celebrations, so if you want to surprise your friends one day with an authentic Basque recipe, make a note of the "kokotxas en salsa verde".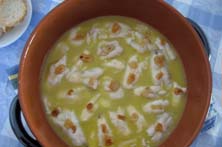 You'll need 1kg of the jaw of a hake, salt, olive oil, parsley, garlic and a dry chili pepper. These are the ingredients, but you'll also need to take into account certain "rules" so you get an "authentic" meal.
Firstly remember that you will need a small and wide cooking pot so the hake jaws distribute well. Pour some oil into the pan to cover about three quarters of an inch, then put in the chopped garlic and sliced chillis; leaving them to cook for a couple of minutes without letting the oil fry.
Take the pan off the hob and put in the hake jaw with the skin facing upwards, season it, pour in the chopped parsley and place it back on the hob. Here comes another essential rule: while it's on the hob, move the pot so the heat spreads all over the hake.
When you see that the hake has changed color, take it off the hob and note the third rule: let the pot cool for 15 minutes. After this time, turn the pot around with both hands until the sauce is thicker. When the sauce has thickened, put the pot on the hob for a short moment – without stopping moving it – so the food heats up and serve it immediately
Perhaps not everything will go to plan the first time, but it's a question of practice. Now you know what our gastronomy is like: much of the time a recipe with simple ingredients needs a well thought-out technique (without being complicated) for it to be great.