Flamingo Beach Attractions & Highlights
The beach
Pristine sand, clear water and spectacular sunsets are just a few of the many highlights of the town's kilometer-long beach, declared a Blue Flag beach for its water purity and environmental standards.
Marino Las Baulas National Park
Just 15 minutes from Flamingo Beach, this national park is home to the nesting grounds of leatherback turtles.
Garre de Leon
This world-renowned golf course, a 10-minute drive away, was designed by Robert Trent, Jr. and guarantees a fantastic golf experience.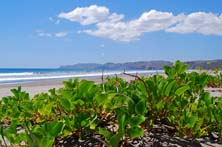 Santa Rosa National Park
The Santa Rosa National Park was Costa Rica's first national park and was created to preserve the historical location of the historic Santa Rosa Battle, most notably the mansion and stonewall corrals, as well as the surrounding forest, marshlands, savannah and mangroves. Furthermore, it protects a vast variety of flora and fauna ranging from cat species to turtles, monkeys and birds.
Rincón de la Vieja
This volcano national park encompasses three volcanoes - the Rincón de la Vieja volcano, the Santa María volcano and the dormant Cerro Von Seebach volcano. Along with fascinating and unspoiled nature, the park is home to monkeys, cat species and over 300 species of birds!
Congo Trail
Flamingo Beach is very close to the Congo Trail, one of Costa Rica's most famous zipline canopy adventures. Harness yourself in for an unforgettable adventure!
Playa Grande and Tamarindo
Top-notch surfing beaches located just 20 minutes away.
More About Flamingo Beach
Learn Spanish in Flamingo Beach
Spanish School in Flamingo Beach
Spanish Courses in Flamingo Beach
Flamingo Beach Accommodations
More Costa Rica Travel Guides