The Oaxaca Experience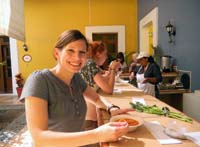 Eat
A trip to Oaxaca, praised internationally by traveling foodies and renowned critics as Mexico's culinary capital, is simply not complete until you sample the city's wonderful gastronomical treats. Delicious dishes, mouthwatering aromas, restaurants for all tastes and bank accounts... give your palate an experience to remember!
Peruse the artwork
Oaxaca has a wonderful cultural scene that, over the years, has led to a talented community of artists and artisans. The old city streets are filled with art galleries, where you can peruse - and purchase - everything from pre-Colombian objects to contemporary painting. A wonderful way to immerse yourself in the local culture, both past and present.
Shop 'til you drop
With a long-standing arts and crafts tradition that has made waves around the world, Oaxaca is filled with wonderful markets and street stands where you can come across all sorts of hand-made treasures: wood carvings, pottery, handwoven fabrics, jewelry, leather goods and much more.
Take a side trip
From tiny indigenous towns to archaeological ruins, hiking excursions, beach destinations and everything in between, Oaxaca serves as a wonderful base for a variety of excursions, day trips, weekend trips, afternoon activities, etc. Here's just a handful of suggestions: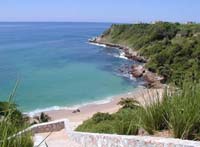 Monte Alban. Must-see pre-hispanic site, old Zapotec capital city, carvings, pyramids, temples, church, excavated tombs.
Mitla. Archaeological site, ancient Zapotec city, incredible architecture.
Puerto Escondido. Surfer town vibe, beaches, water sports.
Central Valleys. Traditional villages, mountain biking, hiking, nature.
Stroll
Oaxaca's historical city center was declared a World Heritage Site by UNESCO years ago, and for good reason! The remarkably well-preserved old quarter is brimming with centuries-old cobblestone streets, historical buildings, Baroque churches, pretty plazas and a charming colonial air.
More Mexico Travel Guides