Visit Oaxaca During...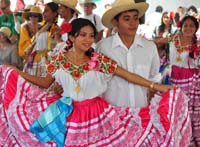 La Guelaguetza
What started off back in Oaxaca's pre-Colombian days as a celebration to worship the god of corn, La Guelaguetza is a fabulous display of local culture through typical music, dress, dance and food, not to mention parades and general merry-making throughout the streets. It's celebrated each year in July.
La Noche de los Rábanos (The Night of the Radishes)
An entire festival dedicated to a vegetable? You bet! This annual festival, held on December 23rd, features massive and elaborate sculpted creations made entirely of - yes, you guessed it - radishes.
More Mexico Travel Guides