Accommodations in Oaxaca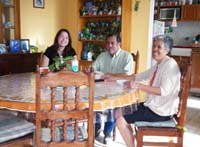 At Enforex Oaxaca, we are dedicated to providing you a true immersion experience, not only with the Spanish language but also with Mexican culture. That's why the principal accommodation option offered here is the home stay, although those looking for some independence can choose to stay in our student residence.
When you live with an Oaxacan family, you will have your own, comfortable room and eat a home-cooked breakfast and dinner (bed & breakfast option includes only breakfast) together every day. Every family is carefully selected for their kindess and the quality of accommodations -- you'll find a new Mexican home away from home!
Host Families (single or double room, half board or bed & breakfast)
Student Apartments (single or double room; no meals)
Student Residence (single or double room, no meals or bed & breakfast)
Our student residence is available on a bed & breakfast basis in a single room, although double rooms are available when 2 students are traveling together.