Feature-Length and Short Film Festivals
Seminci: Semana Internacional de Cine en Valladolid
Valladolid, Spain - October
This Spanish film festival is one of the oldest to be held in a city in Spain, originally beginning in 1956. Winners at the festival are awarded a gold or silver corn ear as a trophy, and a large monetary prize. This particular film festival is famous for being a testing-ground for experimental films in Spain.
San Sebastián International Film Festival
San Sebastián, Spain - September
Held in the northern Spanish town of San Sebastián, this film festival was founded in 1953 as a Spanish-only film festival, but turned into an international festival in 1955. This festival draws stars from across the globe, with the coveted Golden Shell awarded for the Best Film.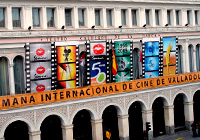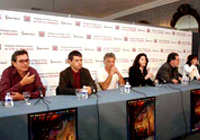 Short Film Festivals
Huesca International Short Film Festival
Huesca, Spain – June
The film festival in Huesca has been celebrated since 1973, run by the Fundación Festival de Cine de Huesca. Every year they receive around 1000 short films from over 80 countries, all hoping to win either the City of Huesca Prize or the Luis Buñuel Prize.
Zoom Igualada. Igualada European TV Film and Film Festival
Igualada (Barcelona), Spain - November
A small European film festival held in the city of Igualada, near Barcelona, which aims to promote the films and other cinematic productions made across Europe. This Spanish film festival has been running since 2003 and has a considerable amount of prestige in the world of European TV and film.
Festival de Cine en Alcalá de Henares
Alcalá de Henares, Spain - November
This annual Spanish film festival has been held in the town of Alcalá de Henares for over 40 years, gradually becoming one of the most prestigious short films festivals in the country. The film festival gives some of the best independent filmmakers the chance to show off their latest films.
Fecinema – Festival de cine negro (film noir) de Manresa
Manresa, Spain - November
A group of people from Manresa created this Spanish film festival dedicated to film noir back in 1998, and it has since grown into a prestigious event. It particular prides itself on offering a starting point for young directors to get their work seen.
Documentary Film Festivals
Point of View, Navarra International Festival of Documentary Cinema
Navarra, Spain – February
The Navarra International Festival of Documentary Cinema is open to all types of film that come under the term 'documentary'. The festival gives out a number of prizes, the most sought after being the Punto de Vista Grand Prize for Best Film and the Jean Vigo Prize for Best Director.
Festival Internacional Documental de Barcelona
Barcelona, Spain – October
Also known as DOCSBarcelona, this festival brings together hundreds of professionals from across the globe to celebrate documentary films. One of the main aims of the festival is to get people networking; especially those who are looking for financial help with their latest projects.
Bilbao International Festival of Documentary and Short Film
Bilbao, Spain – November/December
Originally set up in 1959, this Spanish film festival was aimed at bringing together people from Spain and Latin America and using film to further improve the understanding between the two groups of people. There are a number of prizes awarded for all categories of film, as well as the Grand Prize.
Independent Film Festivals
Orense International Independent Film Festival
Orense, Spain - November
Each year the Orense International Independent Film Festival organizers receive around 1900 different films from over 80 countries. They aim to help independent filmmakers get their work seen both by the public and by professionals in the film industry. They also hold a number of workshops for people to learn more about the art of cinema.
Independent Film Festival of Barcelona, L'Alternativa
Barcelona, Spain - November
Receiving around 2000 films from around the world, this Spanish film festival is the place to go if you want to see the great range of films being produced at the moment. They celebrate all types of film, both fiction and non-fiction, and give out a number of prizes.
Experimental Cinema Film Festivals
Vallecas Puerta del Cine. International Film and Experimental Video Festival
Madrid, Spain - December
This film festival has been held in Madrid since 2001 with the aim of showcasing the experimental film being produced in the participating countries. The festival draws large crowds and awards prizes for the Best Short Film, the Best Visual Style as well as the Most Original Script.
More About Spanish Movies