Julio Médem's Life
From the day he was born in 1958, Julio Médem was constantly playing around with his father's Super8 Camera. Following a privileged upbringing, he went on to study medicine with the aspiration of being a psychologist, but he never lost that constant nagging feeling that his true passion for film stirred in him. During the 1970's and 1980's, Médem got his feet wet directing short films, constantly learning, and writing full-length screenplays that he hoped to one day direct.
The first films to be made by Médem were short films using the Super8 camera belonging to his dad. Some of those films were El ciego (1974), El jueves pasado (1977) and Fideos (1979). Later in his career, Julio Médem would return to this style of filming to produce other short films like Si yo fuera poeta… (1981) and Teatro en Soria (1982).
1992 saw the premiere of Julio Médem's first full-length film, Vacas, for which critics immediately - and correctly - coined him as the next big thing. Naming him the cinematic heir to Spanish greats like Luis Buñuel, Iván Zulueta, and Víctor Erice, Médem certainly has not disappointed. Boasting admirers around the globe like Steven Spielberg, he's considered one of the most original, important, and promising directors of Spanish cinema. It comes as no surprise therefore that Médem was awarded a Goya award for this movie.
This success was followed by others such as La ardilla roja in 1992 and Tierra in 1996. Both of these films were met with a great deal of critical appraisal after their showings at the Cannes Film Festival in France. La ardilla roja was also awarded The Youth and Public Award for the Best Foreign Film at Cannes in 1993.
Since then, Julio Médem has produced a number of films, many of which have been huge successes. Amongst them, we have to highlight Lucía y el Sexo from 2001, which starred Paz Vega as the main actress. This film was massively successful and became the fourth biggest selling film at the Spanish box office in the year of its release.
Médem's films also took a more dramatic and controversial turn in 2003 with the release of the film La pelota vasca. La piel contra la piedra. This film was a documentary project dealing with the various political problems of the Basque Country in the North of Spain. The film caused a furor amongst Spain's right wing politicians, but also was much appreciated by the public and critics after its showing at San Sebastian Film Festival.
This film was followed by a much more personal movie, Caótica Ana, in 2007. This movie was based on Julio Médem's sister, who tragically died in a car crash in the year 2000. As a result, the tone of the film is much more sober and serious than some of his earlier works.
Among some of his other works, we can also find a number of commercials and music videos, proving that Julio Médem is a competent film director in all genres. He also continues to work as a film producer, for which he has also achieved significant success.
Julio Médem's Trademarks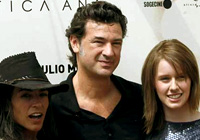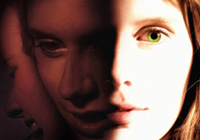 Known for his films' highly personal perspective, Julio Médem's genuinely original movies deal with themes like tragedy, destiny, coincidences, love, rivalry, and passion. Strong characters are constantly at the forefront as Médem explores complex psychology and the human subconscious. Another characteristic typical of his films is purposely between reality and fantasy through what has been dubbed a magical-realist perspective. Social and political subjects stemming with his native Basque country also come into play in films like Vacas and his documentary La Pelota Vasca.
Julio Médem's innovative technique reinvents cinematic basics, highlighting the strengths and possibilities of simplicity, light, space, and perspective. Simple dialogues dominate his films, which allow for the characters and their emotions to make their mark in a surprisingly profound way. A true cinematic pioneer who is always pushing the envelope, Médem is also now the first European director to use the high-tech camera that filmed the third Star Wars prequel.
Julio Médem's Films
With Goya Awards and top prizes from the Cannes Film Festival amongst the proof of his achievements, Julio Médem's ground-breaking films include:
Vacas
La Ardilla Roja
Tierra
Los amantes del círculo polar
Lucía y el sexo
La pelota vasca. La piel contra la piedra
Caótica Ana
More About Spanish Directors