Spanish Movies
Spain, especially during the last few decades, has garnered quite a reputation for its excellence in the art of cinema. Renowned film festivals pop up all over Spain, films are constantly collecting awards and nominations, and fame for Spanish movies and their creators is on the rise, not just in Spain, but throughout the world.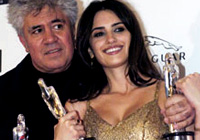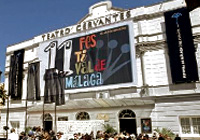 With pioneering filmmakers such as Carlos Saura as well as the new generation of cinematic trailblazers like Pedro Almodóvar, Alejandro Amenábar and Julio Médem dominating the big screen, Spanish movies are making waves throughout the international film scene. There are many parts that contribute to the world of Spanish cinema and help to make it so great. First you need a great plot, which is directed by a great filmmaker. But you also need a group of talented Spanish actors to help bring the film alive. And don't forget a film festival in Spain to show it at! Fortunately, Spain has them all.
Spanish Movies
From the very beginnings of Spanish cinema, to the very latest movies to hit the screens, Spain is without doubt one of the places to go if you want to experience cinema at its best. Spanish movies have been successful not only in Spain but across the world, many of them winning both Goya awards and Oscars.
And who could forget the scary eye scene in 'Un chien andalou'? Or the ending of Abre los Ojos? Spanish movies have certainly provided us with some great moments over the decades (and many where we have had to hide behind a pillow!). This impression you get from watching a Spanish movie is just one of the things that has helped to make them so famous.
Spanish Directors
Spain has produced a number of talented film directors who have given us a collection of excellent Spanish movies to enjoy. Whether you are into your sci-fi action thrillers by Amenábar, or your surreal classics by Luis Buñuel, there is always something in the Spanish film repertoire for you to enjoy.
And of course, how could we talk about Spanish directors and not mention Pedro Almódovar, whom many consider to be the father of modern Spanish cinema. Without him we wouldn't have had such classics as 'Mujeres al borde de un ataque de nervios' or 'Volver'. He marked an important transitional point in both Spanish cinema and Spanish society, brought on by the end of the Franco dictatorship and the rise in freedom.
Spanish Actors
All films are made up of a number of important components, and there couldn't be a great Spanish movie without a great set of Spanish actors and actresses. Thank goodness then that Spain is full of them! Many of the best known international actors today are also some of the greatest Spanish actors; such is the case with Penelope Cruz, Antonio Banderas and Javier Bardem.
Penelope Cruz for example has gone from playing some small parts in the early films by Pedro Almódovar and Alejandro Amenábar, to being one of the most famous actresses in the world, appearing alongside other famous actors like Tom Cruise and Johnny Depp in some of the biggest blockbusters in the last few years.
Spanish Film Festivals
With all of these great names in the world of cinema, it is unsurprising that Spain holds so many film festivals. Plus Spain likes to celebrate all aspects of cinema, so the range of Spanish film festivals is immense too. From the very biggest and brightest, such as the San Sebastián International Film Festival, to the very smallest such as the Orense International Independent Film Festival, Spanish movies always get the screen time that they deserve.
In fact, many of the great Spanish film directors we know today, started their careers at these film festivals, getting their work out to a bigger audience and helping to spread their name. Some of the first films by Pedro Almódovar were shown in bars across Madrid, where he would voice the action himself as it was too difficult and too expensive to add it to the film at the time. It was these sessions that helped him to become so successful in the world of Spanish cinema.
Learn more about Spanish movies: