Pamplona Film Festival
Pamplona not only hosts one of the world's most famous festivals, it also hosts one of Spain's most prestigious documentary film festivals, the Punto de Vista.
The film festival took place for the time in 2005. Although it's a relatively young festival, it has clearly defined ideas: to defend filmmaking that emerges from the direct observation of reality, making use of creative possibilities which convention films often miss.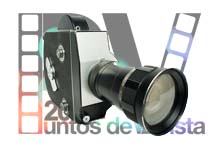 Nine years may not seem like a long time, especially when considering other more famous and glamorous film festivals, however the Punto de Vista Festival has already included some of today's most popular alternative filmmakers, not only in terms of festival film showings but also in seminars offered which feature prestigious directors explaining their thoughts on filmmaking and the important social role film can play when it reflects an unfiltered vision of reality.
This festival is also a platform for promoting Spanish film in its experimental form. The organization created Proyecto X films for young talented directors who make experimental films.
This festival, which has continued to gain recognition, is perfect for fans of avant-garde film that would like to see the work of some of Spain's creative talents.
More About Spanish Movies