Visit Sosua During...
Master of the Ocean
Held during the last week of February in nearby Cabarete, this water sports competition features individual windsurfing, surfing and kite boarding events. The highlight, however, is the "Master of the Ocean", a triathlon-like event of all three sports.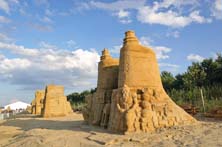 International Sandcastle Competition
Just after the Master of the Ocean competition, Cabaret hosts the International Sand castle Competition during the first week of March.
Puerto Plata Cultural Festival
This weeklong music festival, held each June in Puerto Plata, features blues, jazz, merengue and folk concerts held at the San Felipe Fort. Santo Domingo-based groups perform traditional music and dance, including salsa and African spirituals.
Puerto Plata Merengue Festival
Merengue is essentially the Dominican Republic's national music style and a festival celebrating it is held each October - the first week, generally - in Puerto Plata. The entire Malecón, a seaside promenade, is cordoned off to traffic for the festival, in which famous Merengue singers perform on stage, food stalls are set up along the streets and a great crafts fair makes for interesting finds.
Weather
With its tropical climate, when you learn Spanish in the Dominican Republic you are subject to an "eternal summer", meaning there's really no bad time to visit. While the North Coast's rainfall picks up a bit from October to March, precipitation generally comes in the form of heavy rainstorms that clear up after an hour.
More Dominican Republic Travel Guides