Sosua Attractions & Highlights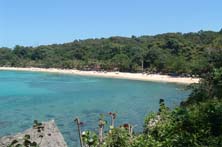 Beaches
Sosua itself is situated on one end of a large bay and enjoys its own stretches of golden sand beaches. The main beach is the palm-lined Playa Sosua, which due to its popularity and easy access often gets quite crowded. A good alternative is the neighboring Playa Alicia; this lovely, practically empty beach doesn't have a public stairway to get from the rocky cliff down to the lapping sea, but you can enter without any problem through the Casa Marina Beach Resort.
Outdoor Activities
From whale watching to scuba diving, horseback riding and deep sea fishing, Sosua and its surroundings offer endless opportunities to enjoy the outdoors, both on land and on sea.
Museo de la Comunidad Judía de Sosúa
Learn all about the presence and contributions of the Domincan Republic's Jewish community - namely World War II refugees fleeing from Nazi repression - in this interesting little museum in Sosua.