Learn Spanish in Sosua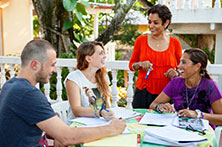 You will find the language school for yourSpanish courses in Sosua located in the Eastern section of the city, very close to both the city centre and the main beach. Of course, that is what you are here for – the beautiful beaches and all the relaxation opportunities they provide, the culture and shopping of the city centre, and the great learning atmosphere of the school. With everything you need so close at hand you will truly be spoilt, and that is just the way we like it!
The following Spanish courses are available in Sosua. For more details, please click on the Spanish courses that pick your fancy below.
Spanish Courses in Sosua, Dominican Republic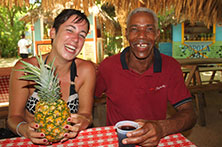 The school has a fabulous outdoor garden open to all students, with comfortable lounge chairs to laze around in and a ping pong table where you can challenge your course mates to a round. There is also a communal kitchen for everyone to use during the day, so if you want to bring your own food or buy it in the city and bring it back to eat, you will find a cosy area and plenty of company. if you bring your own laptop you will be able to access free wifi throughout the school, and if you choose not to then you can use the school's computers and the internet there. It is a great way to stay in touch with your loved ones at home without all the expense of making international phone calls and texts or trying to browse the internet through your smartphone's connection. Students are welcome from the age of sixteen and up, so this can be a great way to get a head start on school lessons or a great addition to your CV in the current job market.
Sosua itself is situated in a beautiful area, with sunshine all year round and a great nightlife if you want to go out and party. You can make this city whatever you want it to be: if you want to relax, just hang around the beaches and chill out at the language school. If you want more action, take part in sports and dive right in to some cultural activities. Or if you want to meet new people and getting talking, use the lessons to empower you to talk to locals and go out at night.
There are three different types of course available in Sosua, each of which is suitable to a different type of learner: check out the details and you will see for yourself which one is right for you.