Learn Spanish in Santiago de Cuba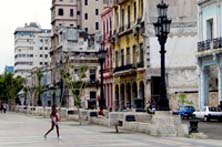 Our Spanish school in Santiago de Cuba is an alternative setting: we do not have a central building. Instead, classes are held either in a cultural center, the teacher's home, or at the house of a host family. This guarantees you small learning groups in a comfortable, personalized environment.
Although the physical space for classes is less structured than other schools, you can still count on a highly organized program. The teachers are all qualified to teach Spanish with years of experience.
All homes and Spanish classes are located in the "Reparto Sueño" neighborhood, a safe, hospitable area.
Minimum student age: 18 years old
Partner school
Other Spanish Schools in Cuba