The Quito Experience
Go shopping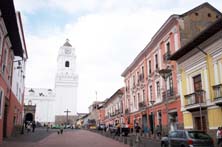 Ecuador specializes in numerous crafts, namely alpaca sweaters, pottery, tapestries, hats and jewelry. Much of what you may find in Quito is mass produced, though you can find truly unique objects if you take the time to peruse the shops and market stands. The best places to go for one-of-a-kind Ecuadorian crafts are outside of Quito in the towns of hte Andes.
If you can, take the two hour trip to the town of Otavalo, famous around the world for its spectacular Saturday market where you can find all sorts of hand-made crafts. The main market day is Saturday, but you can go to Otavalo any day of the week for fantastic finds.
Explore nature
Within just a two hour drive from Quito is a plethora of opportunities to explore and enjoy nature at its best. Head to Cotopaxi National Park for hiking, mountain biking and horseback riding through a beautiful natural setting. Spend a day in Mindo and the Bellavista Cloud Forest Reserve, where you can awe at the rivers and waterfalls, not to mention the diverse mix of tropical flora and fauna, including over 400 bird species, almost always blanketed in a magical mist.
Get lost in the streets of the Old Quarter
Quito's charming Old Quarter is the most extensive and best-preserved in the Americas, according to UNESCO, who made Quito the first city to be declared a World Heritage Site. Spend a few hours ambling along the cobbled streets, people-watching at any number of terrace cafés and perusing the unique shops.