Learn Spanish in Quito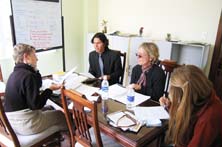 Not many people think of Ecuador when it comes to studying, but Spanish courses in Quito can be very rewarding. The city has one of the best preserved Old Quarters of the Americas, which you can wander through to discover colonial era architecture, cobbled streets, and plazas that you will want to snap photo after photo off to add to your trip album. Set high in the mountains, the views around the city are stunning – just get yourself to a high place and you will see what we mean!
The following Spanish courses are available in Quito. Click on the Spanish course you're interested in to see more details.
Spanish Courses in Quito, Ecuador
The school itself has many great facilities. Far from being the run down old building that some expect properties of this area to be, it is a beautiful colonial structure with many modern amenities. We have 9 spacious classrooms, a roof top which overlooks the whole city and free internet access. There is wifi available for anyone who choose to bring their laptops.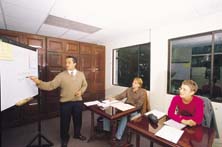 We are also situated very close to some interesting local sights, such as the Carolina park which you can stroll through in your time between lessons if you so desire. There are five different types of course available, which means that there is always something to suit every type of learner – just click the links provided to get the full details on every program we offer.
The Spanish and activity courses have proven very popular with past students, as they add an extra element of fun to the lessons. Rather than losing out on your Spanish by replacing some of the lessons with other slots, you take exactly the same amount of time studying the language as with other courses, so there is nothing to fear in that direction. Your activity lessons will come on top of this, and will add a whole new dimension to the experience – allowing you to practice your Spanish skills that you have learnt in class by applying them to a real life situation.
If you want to practice Spanish by yourself rather than in a teaching group, just take our private one on one Spanish program. There are also other options available for those who would like to add extra lessons to their timetable or spend some time doing voluntary work or an internship.