Accommodations in Quito
When you sign up for a Spanish course in Quito, you can take advantage of the unique opportunity to stay either with an Ecuadorian host family or in a shared apartment.
Host Families (single or double room, bed & breakfast, half or full board)
Shared Apartment (single or double room, no meals)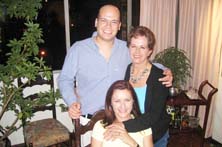 The vast majority of homes are located on average 7 minutes from the school, in the residential area of "La Carolina." La Carolina's main attraction is its park, a popular weekend spot for playing soccer or volleyball, skateboarding, having a picnic, or visiting the botanical gardens or dinosaur museum.
When you opt to live in a shared apartment, you will have the chance to meet local and international students. Here, you'll enjoy a greater degree of independence and cook your own meals. If you'd like to discover new cultures and faces from around the world, making friends in a mixed environment, then this is your best bet! Apartments are located on maximum 15 minutes walking from the school.