Sangría
THE sangría recipe simply does not exist. Depending on the region and on personal preferences, you can find many sangría recipe variations: different fruit ratios, with or without added liqueors, with or without carbonation, red wine or white wine, etc. The list certainly goes on. However, here's one sangría recipe that will give you a pitcher of that cool and delicious summer drink you and your friends are craving: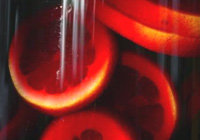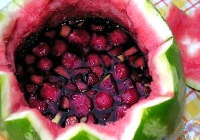 Sangría Recipe
Ingredients
3 liters of red wine
... or substitute the red wine with white wine for sangría blanca (white sangría)
1 liter of lemonade
2 peaches
1 apple
2 oranges
1 lemon
1 chunk of cinnamon
Sugar
Instructions
Wash all of the fruit and cut it into chunks. Now add the wine. After letting it all soak together so that the wine absorbs the fruity flavors, add the lemonade, sugar, and cinnamon (at this point you can also add other liqueors if you so desire). Mix everything together, cool it, and then serve it even colder with ice cubes and fruit chunks.
Sangría Alternatives
Tinto de verano
An alternative to sangría, especially in the south, is tinto de verano. Literally meaning "red wine of the summer," it is equally as refreshing as sangría. Your shopping list is much shorter than for a sangría recipe: just one part red wine combined with one part Casera (you can replace Spanish Casera by mixing lemon soda and tonic water). Like with sangría, ice is a must and a lemon slice sitting on the edge of the glass is certainly a nice touch.
Calimocho
It's pretty clear that sangría isn't the only wine-based beverage in Spain! From the Basque word kalimotxo, this third wine-mixed drink originated during the 1970's in the Basque Country and has since spread throughout the rest of the country. A favorite of young Spaniards, it's cheap yet tasty. Much simpler than the sangría recipe, simply combine one part red wine (some swear that the best wine for calimochos is actually the cheap kind from a box!) and one part cola and you'll have yourself a drink.
More about Spanish drinks...