Spanish Wine
From the refreshing finos of Andalusia to the rich red wines of La Rioja, Spain serves up a wine culture delightful to the palates of both connoisseurs and amateurs alike. With 50 wine regions boasting red, white, sparkling, rosé, and sherry wines spread throughout the country, Spain is the 3rd largest wine producer in the world. With a reputation like that, you can imagine the abundance and unmatched quality of the vineyards and their products.
Regions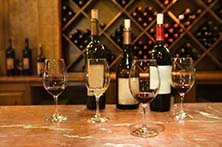 If you're looking to really delve into and learn about the intricacies of the Spanish wine culture, many of the vineyards and bodegas - some of which are hundreds of years old and feature stunning architecture - offer tours and of course generous samplings. The regions of Ribera del Duero, Priorat, and especially La Rioja boast their deliciously hearty red wines. For top-notch white and sparkling wines, Catalonia's Penedes region is the place to be, while the Galician region of the Rias Baixas has earned quite a reputation for its array of fruity white wines.
Sherry
One of Spain's most famous contributions to the international wine scene is its sherry (jerez). In fact, all of the world's genuine sherry comes from the region surrounding the small Spanish city of Jerez- which lends its name to its wine product. The sherry varieties, ranging from the light and refreshing manzanillas and finos to the darker and stronger olorosos and Pedro Ximénez, are Spanish wines that are popular throughout Spain, especially in Andalusia, and the world.
Cava
Cava, Spain's tasty response to France's champagne, is a sparkling Spanish wine that hails principally from the Spanish wine regions of Catalonia, Aragón, and Navarre. Like with sherry, its international presence once again puts Spain on the wine radar, as it is now the 2nd largest producer of sparkling wines in the world.
More about Spanish drinks...