Inés de Suárez
The figure of the conquistadors is controversial. Were they discoverers who made the world bigger or greedy, careless colonizers only worried about their own personal glory? What's certain is that their legacies have profoundly impacted the history of the world. Some, like Pizarro or Cortes are extremely famous, others like Ines de Suarez are practically unknown.
Yes, there were women among the conquerors, and the image of Ines is well-known in Chile. She was born in 1507 in Plasencia (Extremadura) and little is known of her life until, at the age of 19 years, she married an adventurer called Juan de Malaga. A year after the wedding Juan left for Panama while Ines stayed in Spain. Having not had any news for years, Ines embarked towards America at barely 30 years old, where she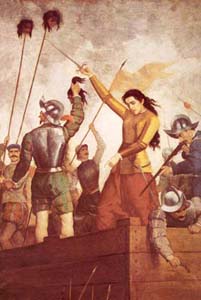 received the news that her husband had died at the Battle of the Salt Mines, and she faced supporters of Francisco Pizarro against those of Diego de Almagro for the rule of Cuzco (Peru).
A short while later she met another conqueror, Pedro de Valdivia, with whom she started a passionate romance. In 1539 she left with Valdivia for the conquest of Chile as the only woman on the expedition. At the start – remember this was a different era – Ines served as a servant; but she soon won a place among her comrades thanks to her courage, loyalty and personality.
She was the first European woman to set foot on Chilean soil and one of the founders of the city which, on the banks of the Mapocho River, would end up becoming Santiago de Chile.
The battle of Santiago with the local chieftains, which followed the foundation of the city, is still the subject of controversy and so it's not our aim to analyze it here. What is up to us is Ines's biography, and we can say that she was distinguished as much for her boldness as her cruelty. Evidence of this is seen in the chronicles that tell how she herself executed seven indigenous chieftains.
The romance between Ines and Valdivia would last until 1544, the date that the conqueror was brought to justice in Lima for his "illegitimate union". The issue was resolved when Valdivia's wife was brought to America and Ines was married off to Rodrigo de Quiroga, the conqueror's confidant.
After the affair, Ines withdrew from her life as a conqueror to dedicate herself to tranquility and religion, leaving much of her fortune to charity. She finally died in 1580, at a very advanced age for the era. Without a doubt her life was full of light and shadows, worthy of the history of the controversial empire.
Other Famous Spanish people